Japanese restaurant "WAKUDA"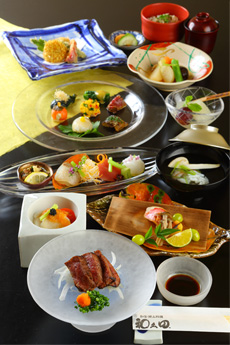 We are a Japanese, or Washoku restaurant nestled in an old, quiet neighborhood of castle city, Kumamoto. Take a few blocks walk away from the busy streets of the town, and you will find yourself experiencing a non-assuming yet authentic Japanese cuisine where gourmet locals keep coming back for everyday meals as well as for special occasions.


Washoku: Intangible Cultural Heritage
In 2013, UNESCO inscribed Washoku on the list of the Intangible Cultural Heritage. Washoku is incredibly rich in its variation of and seasonal, fresh foodstuff it uses, with unique ways of seasoning them. This not only pleases but also perfectly nurtures your body and soul. Adding to it is the art of expressing the season both in food materials themselves and in serving plates and decorative flowers and leaves.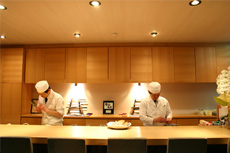 Meet the Chef
Having long worked in the cooking business, Chef, Takayuki Wakuda, has mastered the art of Japanese cuisine and is known for bringing the traditional flavors to a wider audience. Take a counter seat and you will see his and other cooks' masterful use of Japanese knives and other time-honored cooking utensils in bringing the best out of the ingredients.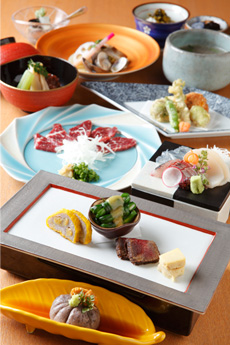 Eat local
We are known for serving traditional local meals. The region enjoys the blessings of fertile natural environment, both from the mountains and seas, and its famously pure, clean spring water allows the production of high-quality rice, vegetables and the alcohol beverages, sake and shochu.
Fish is always fresh from the market procured in the morning of the day it's served. Chicken and beef are also from local producers. And do try the horse, especially in sashimi, or raw; the way which keeps the nutrition and the pure taste of the meat intact. It may be quite an experience for those from other cultures but this is probably the only place in Japan you could do so.
If you want to try little bit of everything Kumamoto, we recommend traditional course dishes. They come in 4 different courses but all include, horse sashimi (Basashi), fried lotus root with spicy filling (Karashi-Renkon), miso-soup with vegetables and dumplings (Dago-Jiru) and Rice with pickled Takana leaf (Takana-Meshi). Please call/e-mail us at least 1 week before for those menus.
| | |
| --- | --- |
| Amakusa | \6,050/person |
| Shiranui | \8,250/person |
| Specials | \16,500, \22,000/person |
(Tax included.)
You are also more than welcome to order non-course dishes on arrival.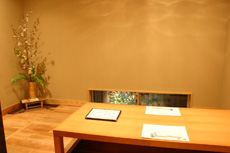 Cozy and private rooms
The rooms are traditional Japanese style with tatami floor and wood walls, each with a sliding door to make the room cozy and private. They are perfect for a couple, a few group of friends and family. You take off the shoes to go into the room and sit on the floor: But not to worry, the floor has a hole under the low table and so you can sit on the floor just like you do on a chair. You could off course take a counter seat.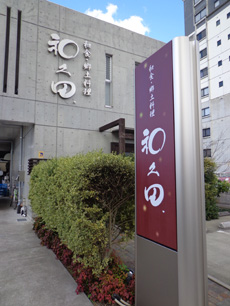 Access
Address is 1-38-1 Saiku-machi, Chuo-ku, Kumamoto. (Go to map.) It's 30 minutes walk from the Castle and 15 from the Kumamoto Station. The nearest street car stop is Gofuku-machi and it's only one block walk away (Make sure to take A-Line if you are coming from the castle direction). Aim for the big sign that says WAKUDA in Japanese "和久田". It's a two-story grey building and across the street there is a SevenEleven.
Business Hour
Open on Tuesday to Sunday from 11:30 am to 2:00 pm for lunch and 6:00 pm to 10:00 pm for dinner. (Closed on Mondays.)
Wakuda
1-38 -1 Saiku-machi, Chuo-ku, Kumamoto
tel: 096-312-0888